As a parent, one of the first choices you'll have to make is which type and brand of diaper to use. As with all child products, it is essential that what you choose is non-toxic and safe for your baby's delicate skin. This guide will review the best non-toxic disposable diapers available today.
When investing in disposable diapers, you may want to consider important factors such as the use of natural materials, chlorine-free bleaching agents and plastics that are considered safe for babies. Balance is also important; while convenience is often necessary while choosing a diaper, an affordable price range should not be sacrificed when looking for something non-toxic and made with natural materials.
Before making your purchase decision, it is beneficial to read reviews from other parents about their experiences with various brands. In addition, manufacturers often list ingredients on their websites so that parents can make an informed decision about what will work best for their baby's sensitive skin needs.
This guide hopes to provide clarity into several non-toxic options available on the market today so that parents can feel confident in selecting a product that is both affordable and meets safety standards set by health organizations around the world.
What to Look for in Disposable Diapers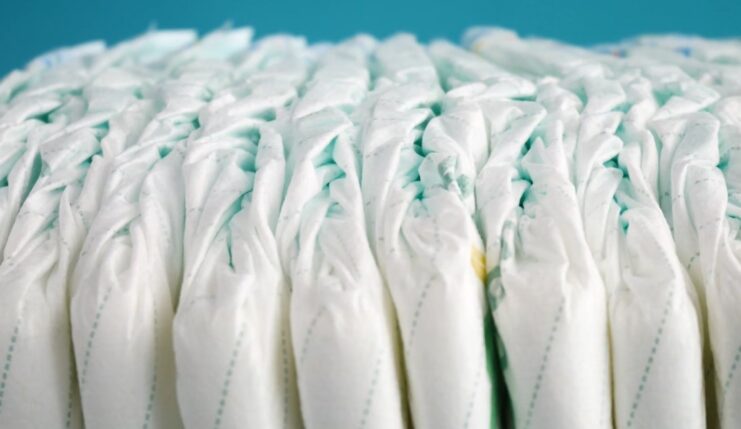 When selecting the perfect disposable diaper for your baby, there are many factors to consider. Not only is the fit important, but so is the material. Non-toxic materials are important for your baby's health and comfort.
In this article, we'll discuss what you should look for in disposable diapers to ensure you're providing the best for your little one.
Chlorine-Free
When shopping for non-toxic disposable diapers for your baby, it's important to look for ones that are free of harmful chemicals. They commonly use a bleaching process with chlorine or chlorine dioxide to achieve an extra white color.
Chlorine-free ones are produced the same way as any other diaper, but the bleaching process is done with hydrogen peroxide instead of chlorine or chlorine dioxide. This eliminates the need for potentially toxic agents and also the production of certain by-products like dioxin.
Additionally, many of them also often are free from fragrances and lotions that could be irritating to your baby's delicate skin. If you'd like your baby to avoid all unpleasant sensations, you should have a look at chlorine-free diapers.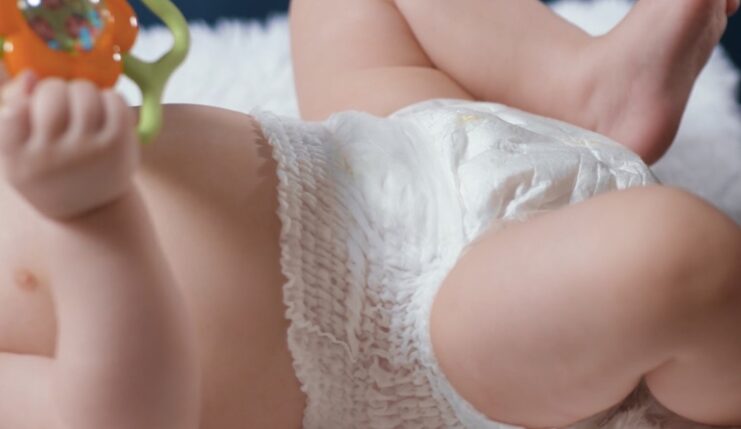 Fragrance-Free
When it comes to caring for your baby, you should always be on the lookout for products that are safe and non-toxic. When it comes to diapers, features such as fragrance-free are important to look for when shopping. Fragrance-free disposable diapers do not contain any perfumes or fragrances that could potentially cause an allergic reaction or skin irritation.
They should be free from dyes and other chemicals that can cause skin issues such as rashes and general discomfort. Be sure to read labels carefully before purchasing and researching the ingredients used in each diaper brand. Look for hypoallergenic, chlorine-free, and dye-free materials as well.
When buying them, make sure that it bears certification from organizations like Dermatest or Oeko-Tex Standard 100 which test for the safety of materials used in making said products. It is also important to look out for certification from bamboo materials so you know you are getting a sustainable product with natural fibers that is more environmentally friendly and safer than traditional options with added fragrances.
Dye-Free
They contain several man-made chemicals including dyes that could potentially be harmful to the baby's health. For this reason, it's important to choose dye-free ones for your baby. Dye-free diapers are typically white and don't contain any artificial colors that could be absorbed through your baby's skin. Many of the best non-toxic brands offer dye-free options with natural ingredients and preservatives so you can rest assured that your little one is safe when wearing them.
Other features to look for include leak protection, absorbency, breathability, stretchy side panels or tabs that keep it in place on even wiggly babies and an adjustable fit. They also come in several sizes such as newborn, size 1 (8-14 lbs.), size 2 (12-18 lbs.), size 3 (16+ lbs.), and other sizes depending on the brand you choose. It is important to get the right size diaper to ensure it fits properly without gaps that can lead to leaks or skin irritation.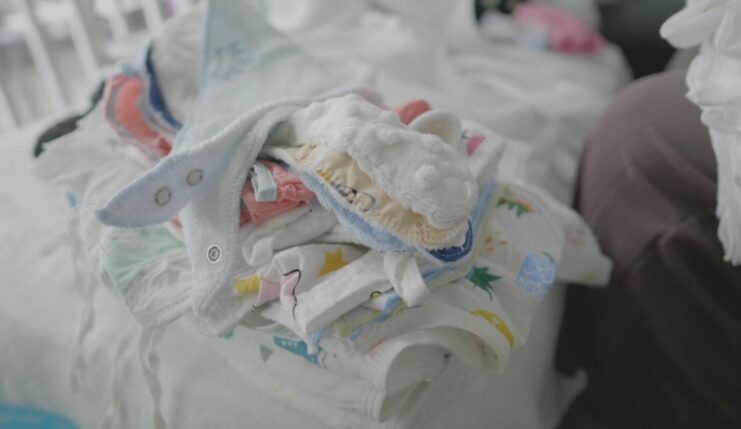 Biodegradable
An increasingly important feature to look for when selecting them is that of biodegradable materials. Since they have a long shelf-life, they have been found to contribute significantly to landfills and water shelves. Manufacturers are now producing eco-friendly diapers with biodegradable materials that break down more effectively in landfill environments and reduce the amount of manufactured waste.
To identify these types of materials, look for words like "plant-based" or "disintegrate" on labels as key claims address eco-friendliness. Furthermore, try to avoid materials like plastic and perfumes as both can be difficult to digest in the environment and pose health risks.
When it comes to evaluating biodegradable disposable diapers, there are a few features that you should be aware of:
Materials: Make sure they consist of biodegradable materials such as cellulose fiber, corn starch, or citrus fiber by checking the label for these keywords.
Absorbency: A diaper's absorbency is key for keeping your baby dry and comfortable during naps and nighttime wear! Check reviews online about each product's absorbency levels for an informed decision.
Leak protection: Moreover, it is also important to make sure the diaper has adequate leak protection which works best when paired with its corresponding snug fit against your baby's skin – this prevents any spills from happening!
Popular Non-Toxic Disposable Diapers
They are becoming increasingly popular among parents of young children. They offer a convenient and affordable way to keep your baby dry and comfortable throughout the day.
1. Seventh Generation
When it comes to babies, many parents turn to Seventh Generation for quality products made with natural ingredients that are safe and gentle. Their diapers are free of chlorine bleaching and fragrances, making them a great option for those who want the convenience of disposable diapers but don't want to expose their baby to harsh chemicals.
The Seventh Generation line of non-toxic disposable diapers is made using chlorine-free material and is fully breathable. This helps keep your baby's skin from becoming irritated or feeling too hot. The material features a special moisture-wicking "sap" layer that ensures the diaper stays dry throughout the day – even on the longest days! This layer also has antibacterial and antifungal properties which help to prevent rash.
They also come with an umbilical cord notch for newborns and adjustable hook tabs that offer a customized fit no matter which sizes your baby needs. Another added bonus is that these diapers are biodegradable so you can feel good about protecting your little one's environment as well as their skin.
2. Andy Pandy
Andy Pandy is a brand that has been in the market for years. They are BPA and phthalate-free and free from dyes, fragrances, lotions, latex and PVC. Their unique design features leg gussets to help prevent side leakage, SoftSafe® panels for extra protection against leaks, and a breathable top sheet with Aloe Vera to help soothe baby's skin.
With an absorbent core that is made up of super absorbent polymers (SAP) and soft bamboo fabric backing material, it has great absorption power. It was also tested under dermatological control by an independent institute to ensure it is safe for everyday use on babies delicate skin.
Additionally, it offers longer wear time than other brands due to its adjustable fit design which ensures the perfect fit at any waist size. The Andy Pandy diaper comes in both standard sizes of newborn through size 6 as well as sizes specifically designed for premature babies.
3. Eco by Naty
Eco by Naty is one of the most popular disposable diaper brands and one of the best non-toxic diapers for babies. They are free from chlorine, latex, and perfumes, as well as a variety of other substances which can be potentially harmful to babies.
They also feature an extra soft, breathable top sheet that is super gentle on your baby's skin. These ones are designed to prevent leaks without sacrificing comfort or freedom of movement. Furthermore, they are 100% biodegradable and compostable, meaning they can be recycled or broken down into harmless components over time.
The absorbency and reliability provided by Eco by Naty diapers make them a popular choice among parents who value eco-friendly solutions for their families.
4. Bambo Nature
They are one of the most popular non-toxic disposable diapers on the market today. This brand uses eco-friendly materials that are free of a few potentially dangerous substances like chlorine, lotions, phthalates, and organotins.
Bambo Nature diapers have high absorbency and their natural drying system helps to keep your baby feeling dry for longer. They are also breathable and stay in place surprisingly well without leaving red marks on your baby's skin.
It is available in sizes from newborn to six, so you can find a size that will suit your little one perfectly. The design features an absorbent core that draws moisture away from your baby's skin for hours of comfortable protection. They also have double gusset leg cuffs which give them an extra snug fit around the legs for maximum leak protection.
These come in two styles including traditional disposable and biodegradable versions. Bambo Nature has a wide selection of prints, checks and plain designs at prices that you can afford!
5. Earth's Best
Earth's Best offers parents a gentle and hypoallergenic range of disposable diapers that won't harm their little one's skin while providing protection from leaks. The outer layer of their diapers is made with hypoallergenic plant-based* materials, which are rapidly renewable and better for both your baby and the planet. The inner layers use patented Liquid Lock™ technology to absorb wetness quickly and efficiently, keeping your baby clean, dry and comfortable for up to 12 hours.
The core materials Earth's Best uses for making these diapers are non-toxic, biodegradable and chlorine-free, making them environmentally friendly compared to other disposable diaper brands. These quality elements present a superior construction designed to protect against leaks without contributing harsh chemicals to the environment. The core of the diaper is made with 55% plant-based* material using wheat & maize instead of traditional plastic – allowing it to break down 5 times faster than other leading national brands.*
Earth's Best also works hard to design cosmetics with only natural outputs following production. Their diapers are produced without petroleum or aromatic hydrocarbons in order to make sure that you don't bring chemical toxins into your home. Also, the adhesives used on all Earth's Best products are non-toxic and hypoallergenic making them nonabrasive for sensitive skin; Plus these come with aloe, vitamin E & chamomile all directly from nature!
Finally – Earth's Best proudly participates in a recycling program that breaks down used disposable diapers into organic material or fertilizer so you can feel comfortable about reducing waste even when moving away from cloth or reusable nappies.
FAQs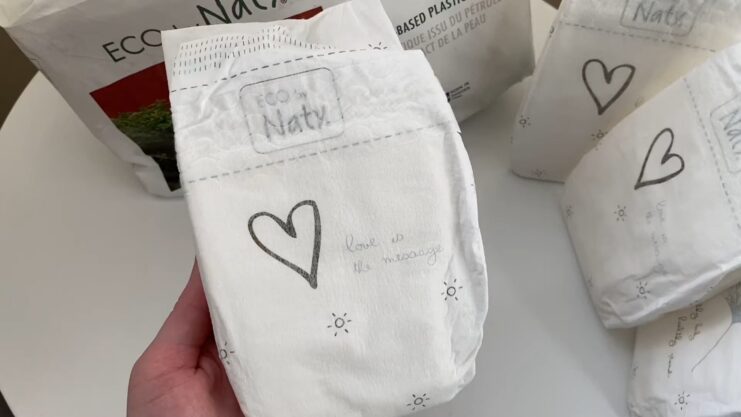 Q: Are non-toxic disposable diapers more expensive than regular ones?
A: They may be slightly more expensive than regular ones, but the cost difference is usually not significant. It is important to consider the health and environmental benefits when choosing which diapers to use.
Q: Are they biodegradable?
A: Some non-toxic disposable diapers are biodegradable, but not all. It is important to check the packaging or manufacturer's website to determine if the diapers are biodegradable or not.
Q: Are non-toxic disposable diapers as absorbent as regular disposable ones?
A: Yes, they are just as absorbent as regular disposable diapers and can keep a baby dry and comfortable.
Q: How do I dispose of non-toxic disposable diapers?
A: They should be disposed of in the trash, and not in compost or recycling bins. Some brands offer compostable or biodegradable options, which can be disposed of in a compost bin or with yard waste.
Conclusion
Ultimately, no matter what diaper you choose for your baby, it's always a good idea to consult a pediatrician and take their opinion into account before making any decision. Every baby is different and has their own unique needs.
When selecting disposable diapers, however, it's important to find an option that meets the highest standards of safety and quality. With the information provided in this guide, we hope parents can make an informed choice that provides comfort and protection for their baby.
In addition to selecting quality products that are free of any known health risks or irritants/allergens, it is also essential to monitor changing times during diaper use and replace them with clean ones as soon as practical. Following these steps can help protect your baby's skin while they grow up healthy!